Laughing Loon Strip Building Classes
Sorry, no classes are being conducted these days.
Laughing Loon will offer the following wood strip boat building classes taught by Rob Macks, the owner/designer/builder at Laughing Loon.
Weekend Workshops
Special Workshops can be arranged by small groups
Individual Lessons are also available

Classes are open to everyone!
Novice and experienced builders alike will learn and have fun.
Several short, focused classes are offered each month, so you can see and learn strip building techniques first hand, in a weekend.
Classes will be small. A Wee Robbie canoe will be under construction and construction will start on a new boat. The two day, 14 hours of classes, will be an overview of strip building with hands on work.
Weekend Workshops, start Saturday morning and end Sunday afternoon, to allow easy participation and convenient travel time.

Classes will cover all aspects of strip building, highlighting the special techniques Rob has developed to make strip building easier. Participants will work on several boats in different stages of construction. Areas covered will include:

Selecting wood and cutting strips • Strongback and station set-up • Stripping without bead and cove Stapleless stripping • Hot glue use and tricks • Sanding • Working with epoxy and glassing • Coaming construction • Varnishing
Class size will be limited to 4 to 6 people. Class members may choose to focus instruction on areas of special interest.

Weekend Workshop Class cost is $495 per person.

Classes are 14 hours, 8:30 am to 5:30 pm Saturday and 8:30 am to 3:30 pm Sunday. With an hour for lunch each day. Bring a lunch or, buy locally.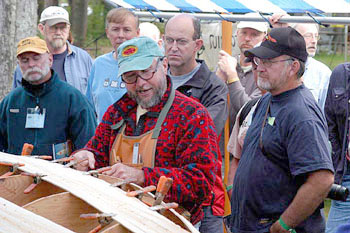 Special Workshops
Do you have a small group 3- 4 people who would like to learn strip building?
Set-up your own class focusing on exactly the boat you wish to build or the techniques you wish to learn.
Special Workshops cost is $350 - per day per person.
Contact Laughing Loon to arrange a Special Workshop.

Individual Lessons
Do you wish to learn strip building on a one to one basis? Do you have a specific area of strip building you'd like help with.
Then individual lessons are for you. Individual strip building lessons are available to suit your schedule.
Individual Lessons cost $48 an hour.
Contact Laughing Loon to arrange a individual lessons.

Follow this link to Register for Classes


Weekend Workshops

Sorry, no classes are being conducted these days.

Follow this link to Register for Classes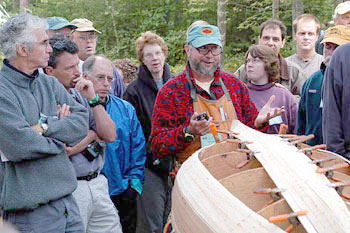 The Instructor for all Classes
Almost 30 years ago Rob Macks pioneered a system to strip build true sea kayaks and has introduced many, now standard, techniques to strip building, such as heat gun strip bending, hot glue stapleless stripping and designs like the magnetic hatch cover. Rob was the first and still is, the only builder to offer strip built baidarka style kayaks.
Rob's wide ranging experience includes an MFA in sculptor, and professional work as jeweler, draftsman, cabinet maker, photographer, designer, writer, woodworker and college professor.
Rob has built over 100 boats. Rob's current strip building techniques have simplified and streamlined strip building into clear, straight forward, easy to learn steps. In 1987 Rob first used the "Laughing Loon" name for the whitewater paddles he made for his own use.
In 1991 Rob established his boat building business, Laughing Loon Custom Canoes and Kayaks. He was the first to offer wood strip sea kayak plans and finished sea kayaks. His sea kayak plans and techniques have set the standard for builders since then.
Location
Classes take place in the Laughing Loon shop in Jefferson Maine.
Jefferson Maine is not far from the beautiful and famous Maine coast and amoung some of the many lakes of Maine. An on site pond allows the option of test paddling boats, mother nature willing.

Please use the Google map below to find directions from your location to the
Laughing Loon shop at 344 Gardiner Rd. Jefferson, Maine