Class registration fees
A deposit of 50% of the class fee is due with registration prior to 45 days before the class.
The balance is due 45 days before the start of the class to ensure your place.
Last minute registration is possible if classes are not at full capacity, full payment is due.
Cancellation Policy
If you cancel 45 days prior to class date your deposit will be refunded minus a $30 fee.
If you cancel with less than 45 days notice your class fee and deposit will not be refundable but will be credited toward a future class.
We reserve the right to cancel classes for emergency or other reasons in which case deposits will be refunded.
Participant's Waiver
A personal waiver is required and must be signed and dated by participants stating:
I will assume all risks and hazards incidental to participation and do waive, release, and absolve and agree to hold harmless other than for willful default or neglect on their part, Laughing Loon Custom Canoes and Kayaks.
Special Consideration
Many people have and understand the severe peanut allergies that are now common among adults and children.
Unfortunately, I have developed an acute allergy to common chemical fragrances, used in major brand laundry products, like laundry detergents and fabric softeners. Personal care products like soaps, shampoos and deodorants are also a problem for me.
All these products contain artificial chemical fragrances that give me a headache in seconds and make me sick.
I ask that you work with me on this issue. Besides the fact that it will be difficult or impossible for me to conduct classes, I'm concerned that this problem will escalate and cause me to become sensitive to the materials I use to build boats. This is my biggest worry about teaching classes!
I hope you can understand and be sensitive to my need to ask for your help to avoid chemical fragrances.
If you do not consciously choose to buy fragrance free products, you are almost certain to have these fragrance chemicals on your clothes and person. It is extremely difficult to detect fragrances or odors we are in contact with all the time. I have people come into my shop and tell me how wonderful the cedar smell is. I cannot detect the smell of cedar, I've been around it so long. I have friends who claim they use only fragrance free products however, I still smell these fragrances on them and it makes me sick.
If you use major brands of laundry and personal products every day you are most likely to have a great amount of these chemical fragrances in your clothes and on your body. These chemical fragrances are designed to be very tenacious and long lasting.
Here are a number of options to reduce the problem;
If you believe you do not have fragrance from these sources, you can come to class with a set of clothing that has been laundered several times in hot water only, and dried on a clothesline outdoors. Please do not use anything but fragrance free hand soap, shampoo and deodorant for several weeks prior to class. If you will do this the chances of my having problems will be greatly reduced.
New clothes are not laundered and do not usually contain these chemicals. If you will buy a tee shirt, sweat shirt and sweat pants of 100% cotton, part of the problem will be solved.
I can provide tee shirts, sweat pants and sweat shirts to people who still have fragrance that makes me sick.
Please use Dr. Bronner's Castile soap to wash clothes, hands and hair.
I will talk with each participant beforehand to work out these issues.
I greatly appreciate your consideration on this issue. I look forward to working with you and I want all of us to be able to foucus on having fun learning boat building.
Thank You!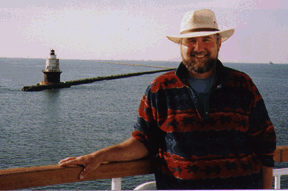 Rob Macks
Please contact me to register for a
class at 207-549-3531 or