"Your directions were very easy to understand. Everything worked well with no problems."

Thomas Templeton, PA

"How well written your plans are and how well thought out is the design."

George Bush, OR

By the way, after reading good books on stripping, it was your articles on techniques, that sold me on your design. You confirmed some of the common sense solutions I had with fairing and C&B (cove and bead). Also you saved me a lot of heart ache with good advise about glassing the boat. I am sure I would have been disappointed had I followed the advise I had previously read.

Lee Smith, AR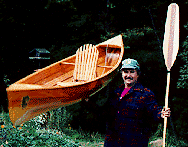 Each of my Canoe plans include a 60 page book of instructions with over 150 illustrations and photographs of work methods and jigs. I provide a materials list, research reading list and all my sources for woods, resins, fiberglass cloth and hardware. Kits are available for my canoe plans.
I have received a great deal of positive feedback from builders saying they found my plans to be clear and easy to follow. I have written these plans describing in detail how I build wood-strip boats. My assumption is that folks buying my plans have not built a boat before. I have worked step by step through these instructions to make boat building accessible to you.
Building time for my canoes is approximately 100 to 150 hours. Materials cost is in the range of $800 US dollars.This is really like a kit without the materials because I give you the experience of my building advice and my materials sources to save you a lot of leg work. My hope is for you to be successful and to enjoy building your Laughing Loon canoe.

Plans include:
Full scale station, deck station, deck coaming, and backrest patterns. No lofting required.
Over 150 photos and illustrations of work in progress.
60- page book of instructions.
Time saving jigs are diagramed.
A research reading list is provided.
A materials list and materials sources list are included.
A list of tools I find helpful is provided.


These instructions are very detailed, with many photographs and elaborate illustrations to make the building process clear and easy.
Construction methods are clear and there are tips and strip building secrets revealed.There are extensive source listings for materials, woods, and tools. I give you all my sources so you don't have to waste a lot of time searching for materials. I explain wood strip building in a way to insure your success.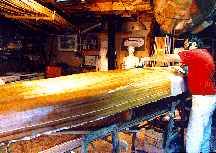 I explain epoxy resins and suggest how to best use them to keep the weight of your boat down.
I list quite a number of reference sources from which you can get a second opinion. And I list web sources for help and as well as the tips on this site.
You may order the new building instructions separately, to review the process and decide whether you will go on to build one of these beautiful boats.

If you are not sure if you can handle this project or just wish to review the instruction book before buying the full plans, you may buy the instruction book for the specific canoe you wish to build.
Plans Instruction Book sold separately $35 Add $15 US // $25 International / $35 Aust/New Zealand
If you then wish to buy the full plans set, $35 will be deducted from the cost.
Plans and instruction books are not returnable.